---
---
The nature of your relationships has a big impact on your ability to create value in your deals. The relationship is the overall quality of the non-substantive rapport you hope or need to maintain with the other side. In general, people are more willing to work with others who they like, trust, and respect so eliciting these feelings will make the negotiation go more smoothly. Even more importantly, negotiations with people who are a part of your social network – like employers, roommates, friends – require particular care. These are essentially people who you will see and negotiate with over a long period of time so the caliber of your relationship will determine if they want to keep doing business or otherwise engaging with you.
Be Trustworthy Without Being Trusting
For other people to take you seriously in a negotiation, they have to believe that you will follow through with the promises you made. Your trustworthiness is one variable in the negotiation that is completely within your control. Be careful not to promise things you can't deliver and if you commit to something then make sure you execute.
At the same time, being a reliable and trustworthy negotiating partner does not necessarily mean that you should expect others to uphold the same standard. Particularly when you are developing a new relationship, it is important to retain a healthy skepticism about your negotiating partners while giving them the opportunity to gain your trust.
Managing Heightened Emotions
Sometimes in the course of a negotiation, tension or other challenging emotions can complicate the relationship. Whenever this happens it is important to address the emotions head on by acknowledging them and taking the necessary steps to work through them. By diffusing negative emotions first, you can create a positive working rapport that will make it easier to address substantial questions about the negotiation.
---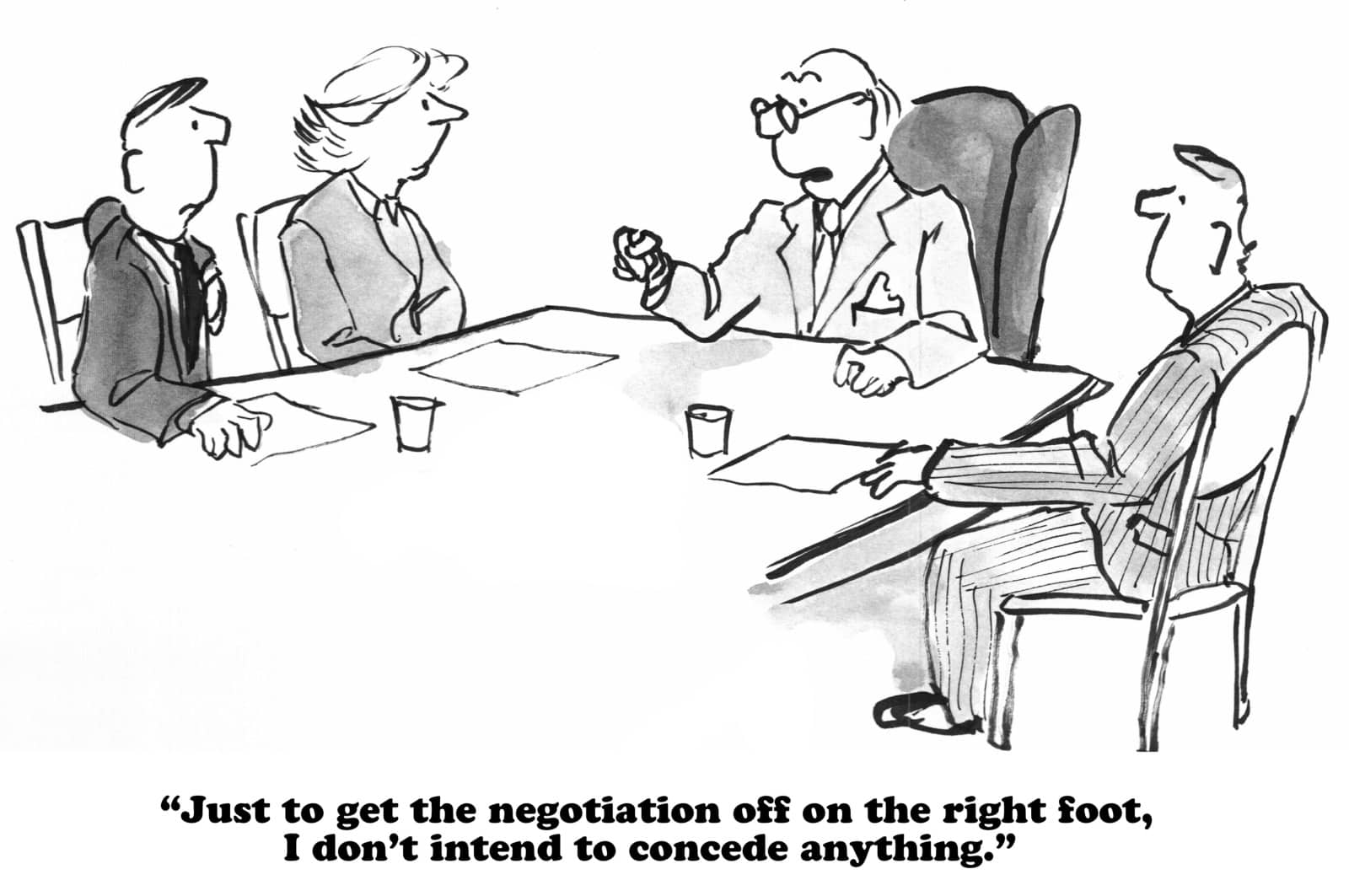 ---
Understanding, Respect, and Coercion
During the negotiation it is important to be aware of how well each side is understanding the other one: Are you understanding them? Are they understanding you? You can use active listening to make sure you are properly understanding other parties during the negotiation.
You also want to make sure that you are managing the risk of negative feelings undermining the negotiation. Ask yourself: Is either party feeling coerced? Is either party feeling disrespected? The emphasis here is on feelings rather than intent as people react to a situation as they are experiencing it. Feelings of disrespect and coercion will significantly impact the working relationship in a negotiation and can even make the environment too toxic for any deal to be made.
Preparation Questions
No matter the size or type of negotiation, it is important to spend time preparing for it. When considering the working relationship in a negotiation you want to make sure to answer the following questions:
What kind of relationship do we want to establish and/or maintain?
How do we expect to achieve such a relationship?
---
Learning to consciously think about negotiating will allow you to better navigate everyday life. You can learn the elements of negotiation by signing up for our free email series.
In just one week you will learn how to understand each party's interests, generate options to maximize value, leverage standards and alternatives as power, maintain productive relationships, and effectively communicate your intended messages.
Enter your email below to sign up.
---
Sign Up To Learn
The 7 Elements Of Negotiation